The social media is getting bigger by the day with the advent of new apps and some social networking sites that are being created to get us to interact and get closer to each other. Business owners are not left out of this growth as it provides an opportunity to market their product and services to a more wider range of customers.
In Nigeria the competition is real and businesses are getting creative in the way they market to the customer. one of the ways they do this now is through the social media with sites like Facebook and Twitter and apps like Instagram, whatsapp, BBM and Snapchat which just happens to be the new kid in the block.
Snapchat is the fastest-growing social network with more than 100 million daily active users. Of the businesses that market on social media, most use Facebook, but only 2% use Snapchat. The lack of competition on Snapchat means that your business has a great opportunity to stand out and shine on the platform.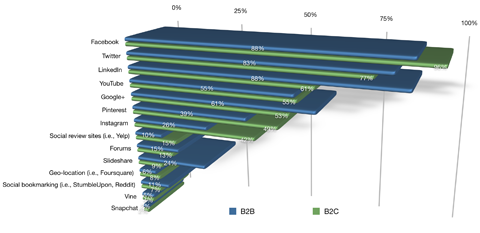 What is Snapchat?
Fundamentally, Snapchat is yet another social media network. However, unlike Facebook, Twitter and LinkedIn, your updates (or snaps) don't stick around for very long. In fact, if you send a snap directly to your followers (called "friends" on Snapchat), it disappears once they've viewed it this in turn raises the question of how many people will see my post or ads? and what age range of people will see my ads?.
Yes, demographics are very important when you consider using Snapchat as the majority of its user base to trends young. That leads to a question you need to answer even before you learn more about the social media platform itself – "Does Snapchat have a place in my marketing mix?"
Should You Use Snapchat for Business?
As with any marketing channel, before you wonder
how
you can use Snapchat for business, you need to determine if you
should
.
The Snapchat user base is a good size, coming in around
100 million
daily active users worldwide back in August of 2014. That's a number that'll cause any marketer to salivate. But wipe your mouth as you consider these Snapchat demographic numbers from December 2014:
Age 18-24: 45 percent
Age 25-34: 26 percent
Age 35-44: 13 percent
Age 45-54: 10 percent
Age 55-64: 6 percent
As you can see, the majority of Snapchat users are under 34. In reality, the age of Snapchat users may skew even lower as the numbers above did not include 13 – 17 year olds. In Nigeria the users of this platform are mostly university students and celebrities like OAP's, musicians, entertainers, and bloggers.
Worldwide, the demographics looked like this in August of 2014:
Percentage of Snapchat users that are between 18-24 years old: 45
Percentage of Snapchat users under 25 years old: 71
Yep, the majority of Snapchat users worldwide are also under 25.
Conclusion: If you don't sell to the under-34 crowd, particularly those under 25, Snapchat is likely not the best use of your marketing time and Naira.
This is where you create your snaps. Here's a quick rundown, starting in the upper-left corner:
The lightning bolt lets you turn your flash on and off.
The moon will adjust the brightness if you're taking a photo with less light place.
The Snapchat log takes your to your settings and is where you can add friends to follow.
The camera with the circle around it toggles your device between its front and back cameras.
Both of the colored boxes at the bottom show that I have received snaps. The red one shows the number of snaps I have without audio and the purple one shows the number of snaps I have with audio. Click here to see a list of other Snapchat icons.
The big circle at in the bottom is where you press when you're ready to take a snap (touch for an image, touch and hold for a video).
The Snapchat Stories Tab
This is where you can find your Snapchat stories, discover sponsored media, watch live events (snaps that Snapchat curates to create an overview of one topic) and recent updates from your friends.
The Discover Tab
Here you'll find an expanded list of sponsored media providers.
#1: Develop Content
First, you'll need to develop content for Snapchat. Here are some ideas that you may want to try:
Create valuable tutorials about something in your area of expertise
. For example, show people how to easily thread a needle or explain how to choose a secure password.
Give users a glimpse behind the scenes at your company
. Show them how your product is made, share the inspiration and ethos behind your company or chat with artists.
Show your product in action
. For example, show a person wearing your dress or reading your book.
Ask users for pictures or videos of them using your product
, and
send out snaps featuring them
. Those fans will feel valued, and your audience will discover different ways they can use your product.
Repurpose content from other social networks
, but
make sure it's tailored to Snapchat
. The tone should be casual and funny, similar to
Vine
and
Tumblr
.
No social feed should be 100% self-promotion, so tell interesting stories that relate to your industry.
Share a cool tip from an industry leader or give an opinion on a recent event
.
#2: Invite Participation
Social media should be social, not a one-way megaphone for promotions. Replying to every snap isn't practical or scalable, but you can certainly do it every now and again. Imagine how great it would feel if your favorite guitar brand replied to your snap of a song. You can give your followers that feeling, too.
Ask people to reply to your snap or post a reply on another social network
.
Sephora
has used this tactic with sweepstakes. They asked users to take pictures of themselves with makeup doodles and post them to other social networks.
Consider following people back on Snapchat
. When they send you snaps, read them and
reply if appropriate
. This goes a long way towards letting users know you're a real person or a real social team behind a brand.
#3: Get Creative
After deciding what content you'll develop, think about how you can present it in a creative way. Here are some ways to do that:
Draw or write on pictures to add humor or emphasis
.
Dove uses Snapchat
to inspire viewers to celebrate their own beauty. In this snap the company drew on the image with bold colors to emphasize their message.
Find clever ways to get people to sit up and pay attention
. GrubHub used a series of images showing a pizza being eaten slice by slice to create suspense before revealing a discount code in the last image.
Tell a story with a series of snaps
. The short time frame can make it fun. Here, Taco Bell teases a story about how they bring people together.
If you
share still images
rather than videos,
play music in the background
. However,
make sure that the music has a Creative Commons license or that you have the rights to use it
.
#4: Add a Call to Action
If you want users to take action after seeing your snaps, try these tactics:
Ask followers to take a screenshot of a snap. (Bonus: This is something you can measure.)
Send a snap saying that you're about to give out an exclusive discount code
and
suggest viewers take a screenshot of it
. Then
reveal the code and measure how many people opened and watched the snap
, and how many took a screenshot of it. You can also track use of the discount code, since it was distributed exclusively on Snapchat.
Ask viewers to visit your website
, but make sure there's a strong incentive for them to do so. For example,
start a story in the snap
, and then
tell viewers that it's continued on your website
.
Track the effectiveness of this strategy by creating a special page with a URL that you give out only on Snapchat
and track it with Google Analytics.
#5: Build a Following
The challenge in building an audience on Snapchat is that the platform has no hashtags, search or any other means of traditional content discovery. You can create a following by letting people know you're on Snapchat and giving them a compelling reason to follow you.
Try sharing your snapcode on your other social networks to make it easy for fans to add you
.
You can
learn more about snapcodes here
.
Conclusion
Snapchat marketing is still largely uncharted territory. But you have a great opportunity to be an early adopter and grab the spotlight for your business.